If you're not a downhill skier or simply looking for winter fun for the entire family off the slopes, North Lake Tahoe offers mile after mile of stunning panoramas and every type of winter activity imaginable. You'll find endless entertainment with snowmobiling, sledding, snowy hikes, experiences on the water and more. Check out our suggestions below for how to live in Tahoe Time, without the skis.
Tahoe East Shore Trail

The Tahoe East Shore Trail opened in June, 2019 and has been a popular place to take in all of Tahoe's beauty ever since. The trail offers a 3-mile long, 10-foot wide paved path that allows everyone to enjoy, whether walking, running, or riding. Meeting all current ADA requirements, the trail ensures everyone can participate. E-bikes are welcome too, but all motorized vehicles are prohibited. Dogs are permitted with a leash so feel free to bring the entire family for an afternoon of fun. (Don't forget to be a good human and pick up after your pup!) There are 16 incredible vista points along the path that offer the perfect rest stops to get off the trail and enjoy the views of always-stunning Big Blue. While there, you can appreciate Tahoe shaped plaques with inscriptions from the donors; some with short poems or quotes, and other with words of praise for Lake Tahoe and family. The best part is the trail ends at one of the most gorgeous state parks in Nevada, Sand Harbor. Entrance into the park from the path is $2 for both cyclist and pedestrians. Truly the most beautiful lakeside trail in all of Tahoe, the East Shore Trail is sure to impress and leave you with spectacular photos to treasure forever.
Lake Tahoe Snowmobile Tours
Get ready for an exciting snowmobile adventure above beautiful Big Blue. Lake Tahoe Snowmobile Tours has been providing tours in the North Lake Tahoe area since 1984 and is the go-to choice for locals and visitors alike. They offer a variety of tours designed for all ages and ability levels. With over 100 miles of trails traveling through National Forest, you're sure to enjoy spectacular views of the entire lake while weaving through old growth pines, powdery meadows and around frozen alpine lakes. With scheduled stops along the crest of the mountains, you'll have plenty of photo ops to capture every ounce of Tahoe's splendor. What could make your tour even better? They have an amazing staff of guides who are professional, extremely friendly, and know the trails like the back of their hand. This is an exhilarating experience that is sure to make memories to last a lifetime. Click below to visit their website for more information or to book your tour today.
Fishing on the Lake
With 70 feet of clarity and an average depth of approximately 1,000 feet, Lake Tahoe is the second deepest alpine lake in the country and the tenth deepest in the world. The most abundant species in the lake is the Mackinaw, also known as lake trout, and can be caught year round and congregate in schools on sandy shelfs. From December to April the Mackinaw feed throughout the day and it is the perfect time to catch some fish. Between winter storms, conditions on the water can be pristine, with a calm and glassy surface most of the day. A few local fishing charters that cater to visitors in the winter are Sierra Fin Addicts located in Incline Village, Captain Chris' Fishing Charters operating out of the Tahoe City Marina, and Reel-Lentless Fishing Charters charters in Carnelian Bay. All include fish cleaning and fileting so you can take your catch straight to the grill. Make sure you bundle up and bring some hot cocoa to keep you warm and toasty while you're out on the water enjoying gorgeous Lake Tahoe and reeling in your catch of the day.
Tahoe City Winter Sports Park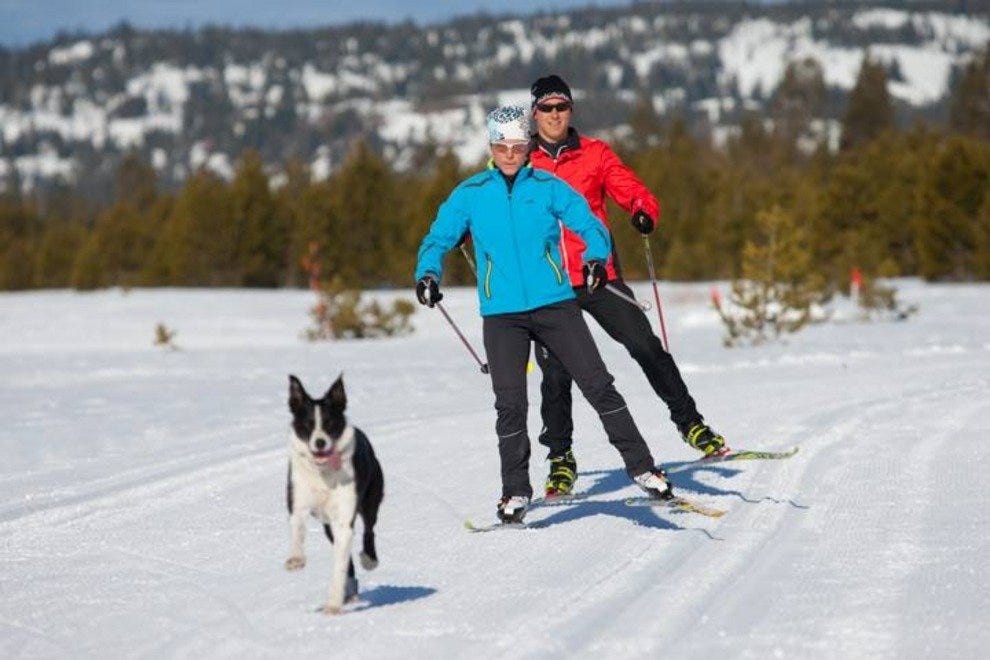 Spend a beautiful winter day exploring what the Tahoe City Winter Sports Park has to offer with the entire family. They have everything from sledding, ice skating, snowshoeing, and cross-country skiing. Their sled hill is located adjacent to beautiful Lake Tahoe and saucer rental is included with the purchase of your sled hill session. If you prefer to snowshoe, they carry a variety of sizes for adults and children and are available to rent on property. Or maybe you'd rather glide on snow. Their groomed cross country ski trails wind around 4km of meadow terrain with views of Lake Tahoe. Trails are groomed daily with both traditional cross country ski tracks and wide lane for skate skiing. Of course, ice skating is a crowd favorite. Getting out on the ice rink is a great way to embrace the season and is a fun challenge for all ages. Skates and skate aids are available for rent. Dogs are permitted to join you for snowshoeing or cross country skiing, so bring your furry friend to ensure everyone can get out to enjoy that crisp winter air. All this activity will surely make you hungry so don't forget to check out Café Zenon for food and drinks. Click below for more information or to book your session today.